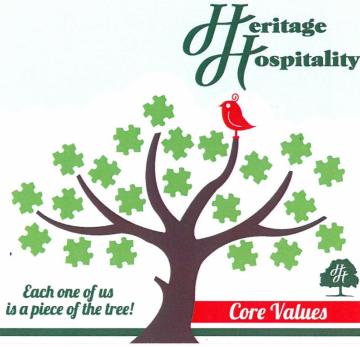 At Heritage Hospitality Management, we take pride in creating a fun and compassionite work envirorment for all of our employees.
Our Mission Statement
"Creating Positive, Remarkable Experiences!"
Our Core Values
Greater Good
Decisions are made based on what is best for the sustainability of the company as a whole.
People
We trust and respect our people. Our strength and competitive advantage is (and will always be) our people.
Communication
We foster good communication – It builds trust and a happy work place.
Customer-Focused
We anticipate, listen and deliver with urgency.
Innovation
Be solution-oriented and work with an entrepreneurial spirit.
Fun
Smile, laugh and love what you do!